ML3: Librarians as Leaders for Media Literacy
At Project Look Sharp (PLS), our mission has been to enhance student's critical thinking and civic engagement through thoughtful and reflective decoding of all media messages. Never has this been more important than in the past few years as we watch fake news and media bias polarize the country and threaten the very essence of our democracy. For more than 25 years, we at PLS have been working with educators to develop ways to bring this work to all schools in New York State and beyond.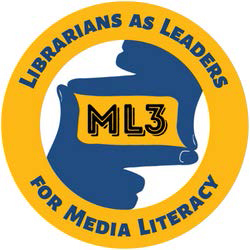 What is ML3? In July 2021, PLS, a media literacy initiative of Ithaca College, received a 2-year grant from the Booth Ferris Foundation in partnership with the New York State School Library Systems Association (SLSA). The ML3 initiative – ML3: Librarians as Leaders for Media Literacy in New York Public Schools– aimed to scale up the work of PLS to enable the integration of critical thinking and media literacy in schools across New York State through the leadership of K-12 public school librarians. The plan was to train 18 school librarians to develop and test strategies for effective professional development, collate resources and create materials that will ultimately prepare all librarians in NY K-12 public schools to become building-based leaders in the integration of curriculum-driven, inquiry-based, Constructivist Media Decoding (CMD) in their schools. The grant also included funding for evaluation, documentation, and networking statewide for scalability.
The ML3 Librarians and Training: In September 2021, we sent out a call for applications to be an ML3 librarian. With over 100 applications in the first 5 days we offered the role to 16 school librarian participants and 4 library coordinators representing every corner of the state, from Long Island to the Buffalo area, the Southern Tier to the North Country.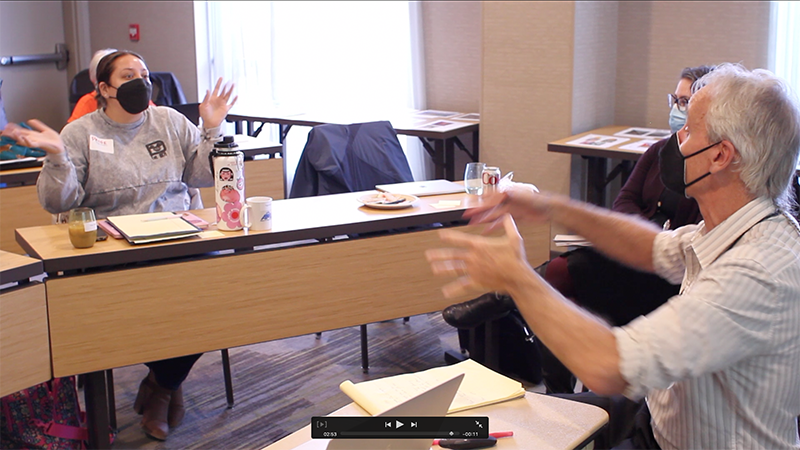 ML3 librarian Paige Caliguiri and Project Look Sharp's Chris Sperry at the Yonkers training
We hosted weekend trainings for two groups, one in Utica and one in Yonkers that provided both an introduction to media literacy and to the pedagogical frameworks behind constructivist media decoding. The face-to- face trainings were critical in developing camaraderie, motivation, and a strong sense of collective mission. From the start the ML3 librarians began advising us in best strategies and approaches, needed resources, and an ultimate plan for growing this work statewide.
Coaching and Cohort Groups: During the rest of the 2021/22 school year, each participant met periodically with Susan Allen, our Project Coordinator and ML3 coach, to discuss their experiences with CMD, strategies for success with students and teachers, ideas for new lessons, PD opportunities, and evaluation of the initiative. Each librarian also met in a small cohort group each month (elementary, 6-12, high school, and library coordinators) with the Susan and Project Look Sharp Directors, Cyndy Scheibe and Chris Sperry, to get support, and share experiences, often related to growing this work amidst a global pandemic.
Outreach: We have begun promoting this work to key stakeholders across New York State through supporting and writing articles for the New York Library Association (NYLA) Newsletter, the School Library Section of NYLA Newsletter, School Administration Association of NYS e- newsletter and other forums. We hosted an exhibitor table and presented four ML3 related workshops at the NY Library Association's annual conference for school librarians in May 2022.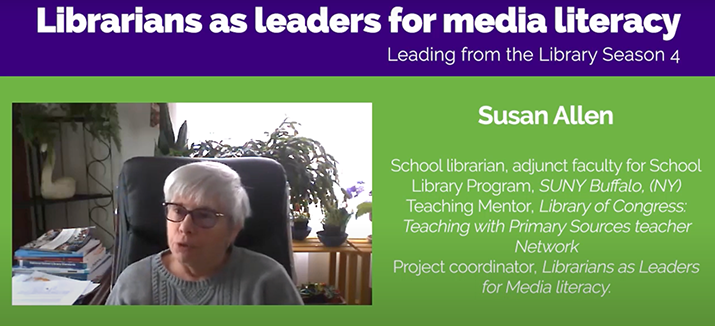 At the national level, Susan and Chris participated in a podcast discussing ML3 hosted by Future Ready Librarians. We have also written ML3 related articles in several periodicals, including the Journal of the American Association of School Libraries, participated in a special panel featuring specific state initiatives during the annual conference of the National Association for Media Literacy Education in July 2022 and taken on a significant role in helping to promote NYS legislation about media literacy and librarians through lobbying work with DemocracyReady New York.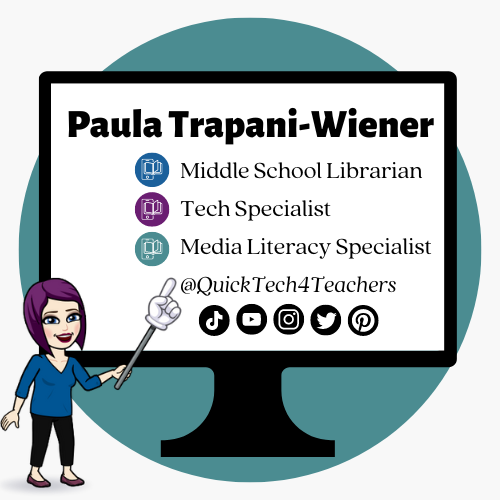 One of our fabulous ML3 librarians, Paula Trapani, has worked with Project Look Sharp to create short TikTok videos to share our work more widely. To date Paula's videos include:
Update August 2022: While the original proposal called for us to complete the 2-year grant by crafting a plan for statewide scaling, thanks to our partnership with the School Library Systems Association of New York (SLSA) and the work of our 20 ML3 librarians, we already have a solid plan for the scaling of our work with school librarians throughout New York State. We are currently working on developing and piloting the strategies, resources and approaches needed for this statewide plan. In Year 2, we will be able to evaluate and share these materials, develop the necessary advocacy strategies and resources, and deepen our networking and promotion to enable the scaling of constructivist media decoding in schools across the state.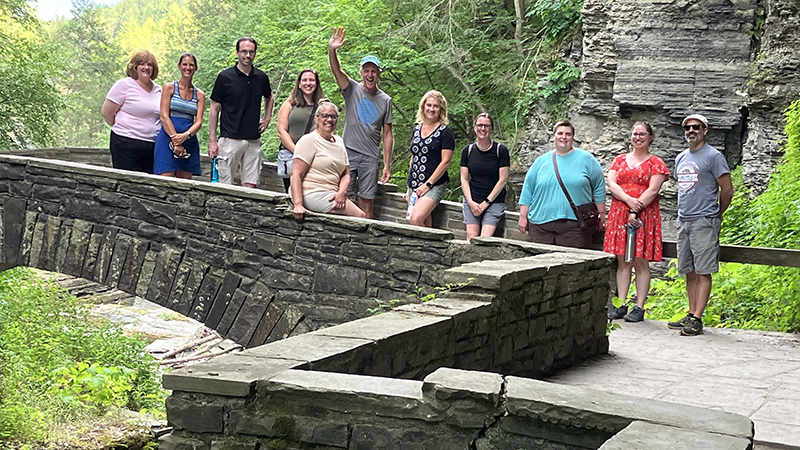 Photos from the ML3 Retreat in Ithaca July 15-17, 2022
Website Changes: Based on feedback from our librarian leaders we have made the following changes/additions to the Project Look Sharp website:
New free media decoding lessons created in collaboration with ML3 librarians including:

As a result of this work with librarians across the state, we are transitioning some of our lesson creation to a new collaborative model with librarians as co-creators of new media literacy lessons for the PLS website.
Kong: Skull Island
Avengers Endgame
United States
Japan
United States
Russia

How might these posters reflect a national or cultural perspective?
CMD Starter Kits: Responding to the request to "help me to get going in this media decoding work" we will be posting 20+ kits that will give librarians and teachers the tips, lesson suggestions, video demonstrations, and resources specific to their grade level and subject area.
Advocacy Videos: We are also working with Rhys Daunic, the founder of The Media Spot, to create short videos that will help promote librarians as leaders for media literacy to policymakers, administrators, teachers and librarians. Rhys will also be working with ML3 librarian, Michele Coolbeth, to make CMD demonstrations videos with our youngest students.
Update February 2023: Throughout this school year Project Look Sharp has been working with more than a dozen New York State BOCES school library systems to deliver full day workshops for librarians in half a dozen areas across the state. Each of these trainings has had a follow-up component where a small number of school librarians in each region meet periodically with a trained ML3 coach to share their integration plans for their schools, get support from each other, practice leading decodings, and learn about new resources for growing this work. This summer Project Look Sharp will be unveiling a series of new resources for these ML3 leaders to help them in providing PD to their teachers and librarian colleagues.

We are also developing and will pilot in the summer of 2023 a hybrid training course with primarily self-paced elements that will support librarians and teachers in learning and practicing CMD and in preparing them to become leaders of this work across our state.
Related Initiatives: The New York State School Library Systems Association (SLSA) is planning to host a statewide roll out of media literacy integration in the spring of 2023 through a full day event across the state targeting librarians and administrators. The New York State Library Association (NYLA), in collaboration with SLSA and DemocracyReady NY, is lobbying for 4 bills in the State legislature to promote funding for a librarian in every school, a media literacy advisory group, professional development in media literacy for librarians and teachers, and a standards working group. Work is also being done on the development of a framework for media literacy in New York.

As you can see the work of integrating media literacy throughout New York State through the leadership of school librarians is moving forward rapidly with multiple organizations playing key roles in leading this work. We are at a crucial moment, with the collective recognition of the criticalimportance of media literacy in preparing our students to navigate our increasingly complex and polarized media ecosystem. We need to keep the momentum moving forward, with thoughtful and sustained success, to build an educational infrastructure that will prepare our children with the agency, insight, and habits they need to maintain our democracy.